Upholstery Cleaning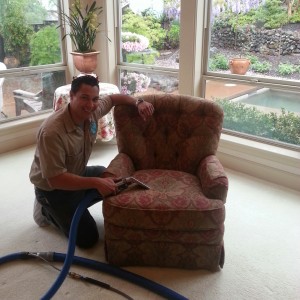 Eco Choice is the BEST choice for your upholstery and furniture cleaning needs.
You may be surprised at just how much dust, dirt and grime collects on the sofas and chairs that we love to relax on. Not to mention the thousands of dust mites, along with their feces and corpses that collect everyday on that favorite chair and sectional we cuddle up on every evening!
Thankfully you can count on Eco Choice to steam clean all of that nasty stuff away! What's even better is the fact that our products are non-toxic, rinse free and dry incredibly fast so you can kick back and enjoy your furniture like you deserve!
Here's just a couple reviews from our happy clients…
"Very quick service and professional. I received  a response within 5 minutes after making my inquiry. Cleaned my couch the next day. Excellent result."
Renah
Roseville, CA
04/16/2012
"Professional and Perfect!
This service was incredibly expedient which was so refreshing! I was called back immediately, the service was set up on the same day, it was fast and thorough and my upholstery looks like new. All that and my kids, home and pets didn't have exposure to any chemicals!"
Katie
Granite Bay, CA
02/11/2011
"Very quick service; professional
Received response within 5 minutes after making inquiry. Cleaned my couch the next day. Excellent result."
Roseville, CA
04/16/2012
Call or text 916-705-9349 today for all-natural, non-toxic Upholstery Cleaning in Roseville, Rocklin, Lincoln, Granite Bay, Folsom and El Dorado Hills