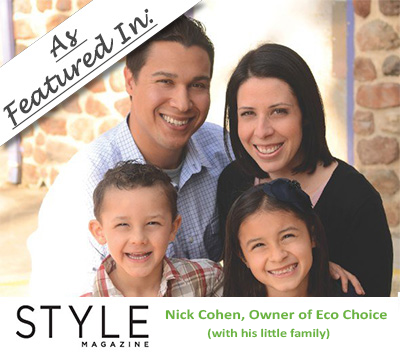 We offer full service, van mounted carpet and upholstery cleaning in Roseville, Rocklin, Lincoln, Granite Bay, Folsom, and El Dorado Hills. We've designed our service to be natural and safe for your children, pets, and for our environment all the while maintaining superior cleaning results. You will find the service we provide to be unparalleled…we guarantee it!

Not every Carpet Cleaning Company Gets the same results! Look at our 9-step process to see how we can guarantee: "The Most Thorough Green Clean You've Seen, Or It's FREE!"
Why Eco Choice is the Better Choice
What Customers Are Saying
Nick was very professional, followed through and detailed. Our carpets, couch and love seat, as well as our dining room chairs, look better than we've ever seen them! It's also a great feeling to know
I was so impressed with the service given by Eco Choice. Nick did an excellent job getting the spots out of our carpet. It looked brand new by the time he was done. I would
I felt Nick was conscientious and well organized. When our carpet was cleaned, the look and feel of it exceeded our expectations – it seemed to have new life! Shortly after the cleaning a friend
Nick did a wonderful job with our carpets. Our carpets look like new. I was especially impressed with our stairs. I would definitely recommend Eco Choice to everyone and it is the only carpet cleaning
We have spoken to and used several different cleaning organizations in the area for both our home and rental properties. After speaking to Nick I knew I had finally found a company I could trust
I had never had the carpets cleaned in any of my homes before because I was always told that it damaged the carpet and made them get dirty faster. I finally broke down and made
Eco Choice did the job and it looked like new! I'm impressed with Nick's energetic and innovative approach which is based on service and great customer satisfaction
Every once in a while you receive a service that far exceeds your expectations. This was my experience hiring Nick with Eco Choice. Completely professional. I was able to leave him at my home where
I operate a large in-home family daycare and have struggled for years to keep my carpets clean and sanitary. I also try to use products that are free of heavy chemicals and safe for the
Nick was punctual, professional, reliable, pleasant, and he did a great job on the chairs and sofas. I finally have a good recommendation for all those looking for a good upholstery cleaning service! Will definitely
I work with Eco Choice on my projects because they do exactly what they say they will do (and more). I use Nick from Eco Choice on my own home too. I trust him in
We live in Natomas and get a lot of discount flyers for carpet cleaning, but I wanted to make sure that there were no harmful chemicals used for our pet's sake. Nick came out and I
Why Choose Eco Choice?