About Us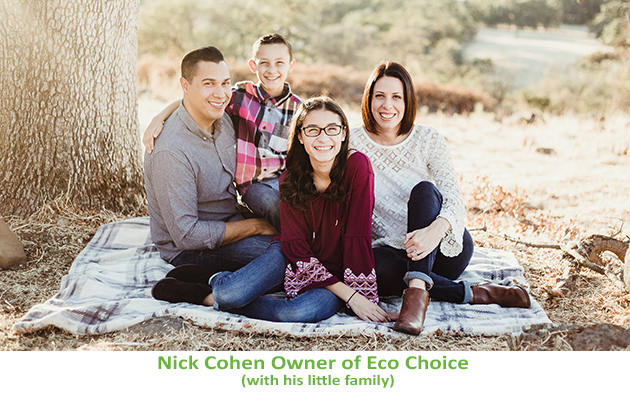 In March of 1994 Nick Cohen's brother, Joel started his first carpet cleaning business in Anchorage, Alaska called SteamTech Inc. Over the course of eight years Joel built a successful business in Anchorage, with over 3,500 clients. Cleaning over 150 carpets per month, his company success even gained national recognition in the industry's leading trade magazine, CleanFax.
In 2008, Joel recently converted all his knowledge and experience in carpet cleaning and created a new unique company – Eco Choice Carpet Cleaning Inc! The growing concern for our environment coupled with constant requests from clients for kid-safe/pet-safe carpet cleaning, bred the idea for Eco Choice Carpet Cleaning Inc. A company that maintained all the ideals of premium service while focusing on preserving our fragile ecosystem.
Keeping it "all in the family" Joel has passed on his expertise to his Brother, Nick so that The Greater Sacramento Area can benefit from this unique carpet cleaning service.
Many things distinguish Eco Choice carpet and upholstery cleaning as being over and above the industry "standard". However, if Eco Choice's distinction needed to be summed up concisely, the company's unique selling proposition does it well. "Most Thorough Green Clean You've Seen, Or It's FREE!" Confident of their service, based on years of experience, they stand behind their work 100%! Under the constant scrutiny of clients who well know the guarantee, the success of Eco Choice serves as a testimony to the quality of the work performed, and the assured success of their business.
Another unique aspect of this company is it's one-of-a-kind membership program. Made up of a small but very loyal percentage of Eco Choice's total clientele, this program utilizes one year, self-renewing contracts to help residential and commercial clients establish annual cleanings. This not only helps their clients with routine carpet maintenance but shows that Eco Choice is here to stay.
The message is clear. With over 15 years of business ownership and industry specific experience, success with three carpet cleaning companies started from the ground up, coupled with high standards for customer satisfaction, Eco Choice can easily be considered one of the carpet cleaning industry's leaders.