Tile and Grout Cleaning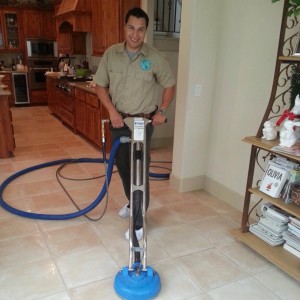 Question:
Have you ever tried to clean your tile and grout yourself? Then you know it can be a TON of back-breaking work!
Some of my clients have told me their "horror story" of when they figured they'd spend a weekend on their hands and knees scrubbing dirty grout….only to give up not even half way through!
Why not save your knees, back and frustration by calling Eco Choice to make quick work of all the dirt, grime and grease that builds up on your tile and grout floors! 
We have specialized equipment designed specifically for the task. Truck-mounted high heat and high pressure cleaning that blasts away the dirt while simultaneously extracting it away to our huge recovery tank in the van.
In addition to not stressing about having to clean your tile and grout yourself, you can feel good about the fact that our products are Green Seal Certified and leave no chemical residue on your floors!
Here's just a couple of reviews from our happy clients..
"Great Service! My tile and grout look brand new! Nick did an amazing job. Nick was very efficient and on time. I will 100% use Eco Choice again and would highly recommend them to my family and friends!"
Karen D.
Roseville, Ca
03/05/2013
"Fantastic!!! I have already told several people how great my carpet and tile looks. I will be using them again!!"
Christine
Roseville, Ca
05/07/2012
Call or Text 916-705-9349 Today for your eco-friendly, all-natural, non-toxic tile and grout cleaning needs!