Carpet Cleaning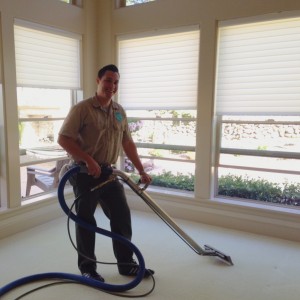 Here at Eco Choice, we provide unparalleled carpet cleaning results. What's even better is that the products we use are Green Seal Certified. That means you have the peace of mind that your family and pets can "breathe easy" because there are NO artificial fragrances and NO chemical residues left behind.
Let us show you that green CAN clean! We're happy to provide a FREE sample of our work. Click here to sign up! Or check out our 9-Step, eco-friendly carpet cleaning process.
"But my carpets don't look dirty!"…… Read on…
A "clean looking" carpet is not necessarily as clean as it looks!
Here's why! Carpets fibers are specifically designed to HIDE SOIL.  The shape of each individual yarn is designed so as to minimize the particles of soil that are embedded in it.  Long ago, when synthetic carpet yarns were first invented, their shape actually magnified particles of soil and gave the appearance that the carpet was more soiled than it really was!  On one hand it's good that you don't see the soil, but on the other hand the soil that you don't see still has the same damaging/scratching effect on the yarns.
So the #1 reason "clean looking carpet" is actually SOILED is because it can hide soil…really well!
But there's another reason…Our air in the city contains many contaminants – pollens, fungus, bacteria, cigarette smoke, car exhaust – and hundreds of other chemicals just to say the least. When you and your family members come into your home, you carry those pollutants in your hair, on your skin, your clothing, and your shoes. Not surprisingly, all those chemicals, pollens and bacteria wind up, (…you guessed it), in your carpet!
Your carpet acts like a huge filter for these pollutants.  This is a good thing… until it becomes full.  When that happens (about every 6-12 months depending on traffic in the home) it's time for a good, thorough cleaning.  Especially if you have allergies, asthma, emphysema, or other breathing problems – one major source of your problem could be the pollens, fungus, and chemicals in your carpet.
What's more, you might find that you'll breathe a lot easier after you hire a professional carpet cleaner to get those harmful chemicals out of your carpet.
So in addition to getting rid of soil, another important reason to clean your carpet (aka GIANT air filter) is to get rid of pollutants such as; pollens, fungus, bacteria, and chemicals.
CALL OR TEXT, ECO CHOICE TODAY! 916-705-9349 For all natural, eco-friendly, green carpet cleaning!